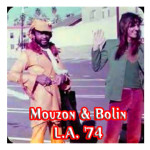 https://www.youtube.com/watch?v=RFM3tYGRWVE
"Some Of The Things People Do"
Alphonse Mouzon & Tommy Bolin: 1974
"BUZZ: Newspaper Article" Aug- Sep 2015 (#53-aM)
By: RLSchwinden aka MrZer0 from the forth coming Book "Post Toastee" The History of: Tommy R. Bolin
As many of you may know I am a huge Tommy Bolin fan, being from Sioux City, you kind of, have to be. I was working at RecordShop VWM in 1989, when the Box Set 'The Ultimate' by Tommy Bolin was release on Geffen Records. Now; his 2 Solo LPs I was very familiar with & the 2 Deep Purple LPs & the 2 James Gang LPs & to a lesser extent even both Zephyr LPs, what I was not familiar with was his one-off LP with Billy Cobham, Alphonse Mouzon & Moxy. I remember reading over the booklet that came inside thinking "Alphose Mouzon, that's about the coolest name there ever was"
So I took a listen to the 2 tracks on the Box Set "Nitroglycerin" & "Golden Rainbows" & I thought "How interesting, this music is so different to anything, I usually listen to" up until then I was not a fan of "Instrumental Music" but this was really different, so I got a copy from my friend Gordy. I was blown away Mouzon's drumming was so fast & furious, precise & driving, very music like one of my favorite drummers Neil Peart.
Alphonse Mouzon was born on 21 Nov 1948 in Charleston, North Carolina, upon graduating from high school, he moved to NYC & attended City Collage of New York taking drumming lessons from Bobby Thomas. Mouzon joined the Jazz band 'Weather Report' sometime in late 1970, the band recorded in Spring '71 & released their 1st LP in May 1971 on Columbia Records, Mouzon left the band to go Solo & released his 1st solo LP 'The Essence Of Mystery' on Blue Note Records in 1973 followed by 'Funky Snakefoot' in 1974. At the exact same time Mouzon was in the jazz band 'Eleventh House' with Larry Coryell (2 Apr 1942 Galveston, TX) that released the LPs 'Introducing' on Vanguard Records in 1974 followed by 'Live In Montreux' later in '74 & a bootleg 'Live In Europe' in 1975.
Alphonse was a busy drummer as he recorded several LPs for McCoy Tyner 'Shara' & 'Song For My Lady' in '72 followed by 'Song Of The New World' & 'Enlightenment' in '73. Mouzon also played on the LPs: Wayne Shorter 'Odyssey Of Iska' & Tim Hardin 'Bird On A Wire' in '71, as wells as Eugene McDaniels 'Headless Heroes Of The Apocalypse' & Doug Carn 'Spirit Of The New Land' & Bobby Humphrey 'Dig This' in '72 & Norman Connors 'Dance Of Magic' in '73.
> The Real Thing <
Here's where the story really unfolds for me.
Tommy Bolin (1 Aug 1951:Sioux City, Iowa – 4 Dec 1976: Miami, FL) had left the 'James Gang' in Aug '74 & he & Stanley Sheldon (19 Sep 1950: Oattwa, KS) on Bass & Mike Finnegan (26 Apr 1945: Troy Ohio) on Vocals & Keyboards & Guille Garcia on Percussion & Marty Rodriguez on Drums were trying to reform a new version of 'Energy' which fell apart in a mere 3 weeks, although some demo recordings were made like "Sooner Or Later" (found on 'Whips & Roses:2'), "Side Walk Strut" & "Shot My Baby Down" this Line-up did perform @ least 1 live show in Denver as a 9 song live tape exists. Then Bolin & Sheldon recorded 3 demo songs for Dr. John's 'Hollywood Be Thy Name' in Nov '74 the title track "It's Your Freedom" & "Stick With Me". Also sometime in '74 Bolin sat in with 'Weather Report' & recorded 11 songs, perhaps as demos or jams.
Bolin was always prone to sit in with anyone who would let him, one time he had sat in on a jam with Mouzon & Coryell of 'Eleventh House' in a club in Boulder, CO. sometime in late '74, Mouzon knew of Bolin by his guitar work on 'Spectrum' (1973 Atlantic Records), by; Billy Cobham (16 May 1944: Panama) with Jan Hammer (17 Apr 1948: Prague) both formerly of the 'Mahavishnu Orchestra'. Mouzon was wanting to record a Fusion Jazz LP of his own, in the vein of 'Spectrum', so Mouzon booked some studio time on 6 Oct '74 @ 'Glen Holly Studio' (named after the street it was located on), in Beechwood Canyon- Hollywood Hills, with Bolin on guitar, as it was one of Bolin's favorite places to record, because it was owned by Bolin's sometime business partner; Phillip Polomeni (23 Jul 1951: Brooklyn, NYC, -3 Feb 2014: L.A.) along with Stanley Sheldon from Bolin's band 'Energy' & Rocke Grace on Keyboards. As with almost any sessions held at 'Glen Holy Studios' they were recorded,
> Collective Energy <
I met Polomeni in 2010; Polomeni "When we built the studio (in the garage under the house), Tommy (Bolin) was my main client there, he (Bolin) wanted Everything captured on tape, however some artists like (Todd) Rundgren did NOT want the jams recorded, so what we did was, secretly install microphones in the ceiling, & when they asked us to shut off the recording mics, we just turned on the hidden mics (in the ceiling), so I have thousands of hours of recordings, that have never been heard by anyone, anywhere, because most artists like (Joe) Walsh & (Jeff) Beck were cool about having themselves recorded. Tommy (Bolin) put up some money to get the studio off the ground, so he & his main man (Stanley) Sheldon were there a lot, they recorded everything, problem was, once in a while we were doing other things (various intoxicants) & sometimes we would forget what we were doing, & we would flip the tape over, that we had just recorded on (the other side), so some things were "wiped" (erased) like the "Beck- Bolin Jam" with Tommy on Bass & Jeff on Guitar, but the other half of that session survived though, we're planning to release that soon, or like most of the "Mouzon Jams" got wiped, except that reel Tommy took with him that night" there was 1 CD released of this material 'The Original Raw Uncut Glen Holly Studio Recordings 1973-1976: Jams Vol. 1' on the "Glen Holly Studios" label, this CD was originally released for 1 day in Sep 2013 then pulled, but re-released in Jan 2014.
Mouzon, Bolin, Sheldon & Grace convened on a Sunday & jammed for several hours, a CD was eventually released 'Bolin- Mouzon Fusion Jams' in 1999 (TBACS-1 CD only) containing:
1. "The Real Thing" (19:24min)
including "Ain't No Sunshine" (@ 14:39min) "From Another Time" (15:00min) "I Shot The Sheriff" (17:40min)
2. Blues Grooves (5:15min)
3. "No More Crying" (3:35min)
4. "Homeward Strut Jam" (3:08min)
5. Gonna Let Me (12:30min) into "What Cha Gonna Do About It" including "A Day In The Life" (9:26min)
6. Sunrise Jam (2:48min)
7. "Following Me" (12:24min) including "Love Child" (2:38min)
(*some song titles are subjective interpretation)
One of Tommy's favorite Guitarists was Wes Montgomery (1923- 1968) & his 1967 LP "A Day In The Life" (A&M- CTI Records #LP-2001) was probably his favorite album by Montgomery, one can tell, as Bolin occasionally, throughout the years will incorporate, the verse melody from the title song, of this LP, in his extended jam solos, just like in Track #5 (@ the 9:26 min mark)
> Crazed Fandango <
The recording for "Mind Transplant" began on;
Wed-Fri4-6 Dec1974 Hollywood, California At Wally Heider Recording Studio "3" Mon & Tues 9-10 Dec 1974 Hollywood, California At Wally Heider Recording Studio "3"with Mouzon on Drums, Keyboards & Vocals, Bolin on Lead Guitar 4 of the 8 songs, Lee Ritenour on Guitar, Jay Graydon on Guitar & Keyboards, Jerry Peters on Keyboards & Henry Davis on Bass. All the songs were written by Elvena Mouzon & were arranged by Alphonse. The LP was Produced by Skip Drinkwater, the Executive Producer was George Butler, the LP was Engineered by Gabby Garcia & assisted by Brian Ingalls. It was recorded in Hollywood but remixed @ Wally Heider Studio "A" in San Francisco by Fred Catero & David Coffin, & was mastered @ Columbia Studios in San Francisco by George Horn & Fred Catero. Art direction was handled by Lloyd Ziff & Bob Cato with Design Ria Lewereke. Photography was handled by Doug Metzler, there are few "out-take" photos from the photo session where Mouzon & Bolin is outside on the street, I have actually held, in my hands, the actual green cloth jacket Bolin wore in these photos.
1. Mind Transplant
Solo: Mouzon
2. Snowbound
Solo: Bolin
3. Carbon Dioxide
Solo: Bolin
4. Ascorbic Acid
Solo: Graydon & Ritnour
5. Happiness Is Loving You
Solo: Ritnour
6. Some Of The Things People Do
Solo: Ritnour
7. Golden Rainbows
Solo: Bolin
8. Nitroglycerin
Solo: Bolin
As Bolin did not read sheet music, he had the songs played to him once or twice, being such a natural musician (his grandfather was a recording musician in Lebanon singing in Arabic, before immigrating to the USA the Bolin estate has about 15 records of their grandfather in the safe vault) he was able to memorize the melody & trusted to come up with something on his own, the other 2 guitarists had their parts written out for them.
John Herdt: 2005 (Bolin historian): "Mouzon wrote all the material on the original release, and the result was a mix of rock, funk and jazz that had tremendous appeal among rock listeners. The playing is superhuman, but there are plenty of hooks and booty-shaking grooves. The album is sometimes compared to Spectrum, but it stands on its own as an irresistible listen. Graydon and Ritenour are superb, as is the whole band, but the mix of Tommy's advanced rock chops with Mouzon's unbelievable thrust and precision was the highlight for many on Mind Transplant he was pushed right up front on the tunes which featured him as the soloist. Many of Tommy's fans are drawn to particular parts of his history for tone and style, and the period around the James Gang and Mind Transplant contains some of his most beloved tone and phrasing. Tommy's performances ranging from the incendiary leads on "Nitroglycerin" to the beautiful melody and drama of "Golden Rainbows" show Bolin crafting auditory gems. "
The was at least 1 live performance of Mouzon's "Mind Transplant" Line-up, as a recording exists on "reel to reel" from Tommy Bolin's personal collection of this performance
Sat 19 October 1974 Ft. Collins, Colorado @ CUS
Opening Act Benny Boulder Using Rude humor
(Partial Setlist From Audio Recording)
1. Golden Rainbows 8:50 min
> Fantasy <
'Mind Transplant' was released in Mar 1975 on Blue Note Records LP #BN-LA398-G & on CD #7243-8183652-1 in 1993, there 2 versions of the CD the 1st issue contains the bonus track "The Real Thing" the other does not, remarkably Bolin was on a total of 4 LPs in 1975, as he played Lead Guitar on the 1st 'Moxy' LP released in Canada in the Winter of 1975 (USA 1976) & then Deep Purple's 'Come Taste The Band' on 10 Oct 1975 & his 1st solo LP 'Teaser' on 17 Nov 1975, quite a prolific output in such a short amount of time.
On a humorous note; Alphonse once sent me a "cease & desist order" because we used his song "Golden Rainbows" in a Mr. Zero's Inc. commercial in 2010. I responded with "Dear Sir, I am one of your biggest fans, as well as Tommy Bolin, & we used the song with the intention of spreading your music to an audience who may be unfamiliar with your back catalog" he must have liked that answer because he let us continue to use the song with proper credit due to Mouzon.
Alphonse Mouzon will be headlining the 21st Annual "Tommy Bolin Music Festival" in Sioux City, Iowa on Sat 8 Aug 2015@ The "Icky Nickel" with Johnnie Bolin: Tommy Bolin Band, DVC, Dare Force, Black Oak Arkansas, & Bobby Berge: Zephyr & Energy & Russell Bizzet: Energy, Jose Feliciano.
https://www.youtube.com/watch?v=tyEeELJPbGk
"If I don't see you in the future … I'll see you in the pasture": T.B. 1975
RLSchwinden c/o
Mr. Zero's Inc. *Est. 2009
1744 Lexington Ave. N.
Roseville, MN. 55113
www.MrZeros.Com