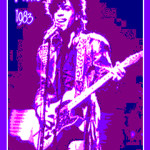 https://www.youtube.com/watch?v=GTOhzlh_el4
"My Name is Prince & I am Funky …."
"Prince & The 12″ Single"
"BUZZ" Newspaper Article: Jun- Jul 2015 (#52-PrN)
By: RLSchwinden: Aka MrZer0

> Mr. Zero's & 12″ Vinyl Records <
Some of you may or may not know I own a "Used Shop" Mr. Zero's & we sell Records, CDs & Cassettes along with Vintage Video Games, & Retro Toys & movies too, since 2009. Recently a young customer was in looking in the 'Prince' section & was confused about "The Vinyls that aren't full ones & why would anyone pay more money for fewer songs?" So I decided this time I will cover "12" Singles" & "Prince" as it was just his birthday.
I started in the "Music Business" back in 1985, so I worked several Prince Records, back in the day, & it didn't hurt that I was a Huge "Prince" fan (vs.Jakko). I had heard of Prince (Prince Rogers Nelson: 7 Jun 1958; MPLS), when I was @ West High, "I Wanna Be Your Lover" was a huge hit in our area, but the 1st time I really took notice was when I was living in Bemidji, MN. I had just quit the band 'High Fever' (as I hated touring) I was working as a temp. janitor at the State University, & my supervisor "Willis" used to play, only R&B & Funk while we worked, I found the work was easier & the day went by faster working to this kind of music, & I really started to dig this one artist "Prince"
So, 1 day I went to buy the new Prince LP & one thing my good buddy Eric DeW. (@ Uncle John Records) taught me was, The availability of 12″ Inch Singles is a limited run, in addition too they are the same size as "LPs" but use More Grooves, therefore they have an Increased Fidelity & 95% of the time, 12″ Singles contain an alternate version of the same song from the LP, a different cover & a song or sometimes 2 songs that are not on the LP at all! So I started buying all of Prince's 12″ Singles 1st, then I would buy the full LP later.
The "12" Single was introduced in 1956 for Jamaican DJ's to use in dance clubs, in 1970 Ampex tested a 12″ Single in the USA, then in 1973 Mixing Engineer; José Rodríguez for the Swamp Dogg/ Jamie label cut a single song over the space of a 12″ Record, the result was increased level of volume & dynamic rage & easy visual access to the "Breaks" in the song. The 1st 12″ Record released worldwide was on Atlantic Records By; Donna Summer "Love To, Love You" summer of 1975.
> His Purple Majesty <
Now I happen to think "Prince" is one of the greatest musicians of all time, talented & prolific, he was not afraid to sing about God or Sex, which was a real turn off to some listeners, he understood "Music Fans" he put out new music almost every year, his LPs contained "Premiums" (posters, photos, stickers) & understood the value of 45 Singles; giving us Edited Versions of our favorite songs with Non-LP songs on the "Flipside" & 12″ Singles; containing extended re-mixed versions of our favorite songs "Backed With" Non-LP tracks as well.
My good friend Jack L. was visiting a Local Guitar Shop in MPLS in the late 70s when the owner informed him; "See that young kid over there in the corner, he's going to be the next big thing" Jack replied; "That little guy over there tearing it up on guitar?" the owner; "Yep that's Prince Nelson, mark my words he's going to be the next big thing" Jack; "Prince Nelson, is he royalty?" the owner "No, that's his 'Real' name" later, my good friend Al H. sold Prince his 1970's Honer Telecaster, that Prince used frequently in the early 80's. Let's get on with our history lesson;
> Controversy: 1981 <
Prince's 4th LP 'Controversy' was released in Oct '81, this LP also contained a Poster in the LP, the 2nd single "Let's Work b/w Gotta Stop Messin About" was released on 12″ Single in Jan 1982 & hit #9 on the charts, this was the 1st "Non-LP Song" released by Prince. I met Bobby Z. (Robert B. Rivkin: 9 Jan 1956; MPLS) in May 2001 @ his recording studio now called "Winterland Studios" I had him sign my "Let's Work" 12″ Single, as he was looking it over I mentioned "It's a 12″ Single" he responded "I know what it is" Me; "Because Prince did so much of the recording himself, did he use you much on drums?" Bobby Z. "Yea, sure he used me all the time in the studio"
> 1999: in '82" <
This really where his Purple Majesty really takes off, on his 5th LP '1999' released in Oct 1982 with 3 of the 12″ Singles containing Non-LP Tracks; starting with "1999 b/w How Come You Don't Call Me Anymore" released in Sep 1982 a #12 Hit, followed by: "Delirious b/w Horny Toad" released in Aug 1983 & a #8 hit on the charts, & then "Let's Pretend Were Married b/w Irresistible Bitch" released in Nov 1983.
> Purple Rain: Soundtrack: 1983 <
The "Revolution" begins as Prince releases the #1 hit single "When Doves Cry b/w 17 Days" in May 1984 a full 2 months before the LP with the Non-LP "17 Days" in my opinion one of the best songs Prince ever wrote & recorded, followed by the 2nd #1 hit single "Let's Go Crazy b/w Erotic City" on 18 Jul 1984. Then the monster smash hit LP "Purple Rain" is released on 25 Jul 1984 although most of this was recorded live @ '1s Ave' club on 3 Aug 1983, this LP also contained a Poster inside. Then the actual film was released in theaters on 27 Jul 1984, it truly was the summer of "Prince"! Then the title track "Purple Rain b/w God" Vocal & or Inst. was released in Sep 1984 a #2 hit on the charts, a 4th 12″ Single, "I Would Die For You b/w Another Lonely Christmas" issued in Nov 1984 & landed #8 on the Billboard Charts, totaling 4 Non-LP songs for this LP. Also The "Revolution" submitted the song "4 The Tears In Your Eyes" to be included on the "We Are The World" LP released in Apr 1985.
> Around The World In A Day: 1985<
Traditionally, it's really hard to top your last monster success, I seem to remember this was the case, I don't think the "Purple Rain" fever had long enough to rest before the 7th LP came out 'Around The World In A Day' in Apr 1985, this LP contained a sticker. The 1st 12″ Single "Raspberry Beret b/w She's Always In My Hair" a #40 hit, was released in May 1985 again another Non-LP B-Side that I feel is one of the best songs Prince ever wrote & recorded, my good friend Le Mar, told me "In St. Louis, 'She's Always' was played on the radio as much if not more than 'Raspberry' was at the time". The follow up 12″ Single was "Pop Life b/w Hello" issued in Jul 1985 & hit #7 on the charts.
I have mentioned many times before in the late 80s for about 10 years into the late 90s that VHS releases were part of "The Standard Record Contract" & sold incredibly well, many of the VHS only releases were & have not been released on DVD due to legalities & contractual obligation (this subject is discussed at length for a documentary I was interviewed for & appear in titled "Adjust Your Tracking" Mar 2014 Romark Ent.). Prince releases the VHS concert "Revolution Live" in Jul '85, from a concert performed on 30 March 1985 Syracuse, NY. the band play 18 songs including all of "Purple Rain" including 3 of these mentioned "Non-LP" songs. The 3rd 12″ Single "America b/w Girl" was released in Oct 1985, worth noting the "A" side clocks in at 21min & the B-Side again is a Non-LP, to total 3 songs not included on the LP.
> Parade: 1986<
I have to wonder if Prince thought the key to another smash hit LP was another film. The single "Kiss b/w Love Or Money" was released in Feb 1986 & hit #1, (however my favorite version of this song is by: 'Age Of Chance' from 1986) followed by the soundtrack LP in Mar 1986 titled 'Parade' to the film "Under The Cherry Moon" released in Jul 1986, I do recall a lot of promotion for the film but not that much success, I seem to remember Jerome Benton (19 Sep 1962 MPLS) getting the best response from the film. I met Jerome at a 'The Time' concert @ the Quest in MPLS, which happened to be his birthday, I was able to slip back & wish him a happy birthday, oddly enough the following year I saw 'The Time' In concert again @ a club in MOA, as I walked up to him to say "Hello" he looked at me & said "Hey, man, I remember you, how have you been?" The 2nd 12″ single "Mountains b/w Alexa de Paris" was released in May 1986 & reached #45 on the charts. The last 12″ from this LP was, my favorite song from this LP, "Anotherloverholenyohead b/w Boys & Girls" released in Jul 1986. Again, 3 extra songs.
> Sign O The Times: 1987<
In Feb 1987 the new 12″ Single comes out, a #3 hit with "Sign O The Times b/w La, La, La, He, He, Hee" with the next big smash hit for Prince with the 2nd Double LP "Sign O The Times" released in Mar 1987, I remember WB Records really pushing this LP, as we (RecordShop) received 2 Promo LPs & 2 Promo Cassettes, (as Cassette was Thee Predominate Format from 1986 to 1991) over a 9 month period. The next 12″ was "If I Was Your Girlfriend b/w Shockadelica" (a title lifted from The Time's Jesse Johnson) released in May 1987. The 4th 12″ released was "I Could Never Take The Place Of Your Man b/w Hot Thing" in Nov 1987, a top #10 hit & so once again 3 more Non-LP songs.
It's worth mentioning that Prince had recorded & nearly released a LP titled "The Black Album" in Dec 1987, a few hundred promo copies leaked out, before the release was altogether cancelled. My favorite track is "Bob George" it's a "Must Listen To", simply because it is so different for Prince, although there is a similar track titled "Cloreen Baconskin" on the 'Crystal Ball' CD from 1998. This CD; 'Black Album' was eventually released in Nov 1994.
> Lovesexy: 1988<
In an unusual move for Prince he put the Non-LP song "Good Love" on the soundtrack LP 'Bright Lights, Big City' released on 1 April 1988, then in Apr 1988 the top #10 hit "Alphabet St. b/w This Is Not Music, This Is Not A Trip" is released. Unlike any other artist of the time Prince was releasing 1 LP per year, which, for me, is why he is one of the greatest artists of all time, Prince's 10th LP 'LoveSexy' is released in May 1988 followed by the next 12″ "Grand Slam b/w Escape" released in Jul 1988, (Prince & Comp. opened a Club of the same name in MPLS. in late 1989). In Sep the 12″ "I Wish You Heaven b/w Scarlet Pussy" is released, the 12″ version of the "A Side" is now part of a 3 part movement, along with the "B Side" is not included on the LP, indecently, the "A Side" is my favorite song of this LP.
A 2nd "Live" VHS Concert was released in Nov 1988 titled "Sign O The Times" recorded from 4 concerts in Jun 1987 Rotterdam, Antwerp & MPLS, it contains 14 songs. As Vinyl virtually ceased to exist in Jan 1988, this will draw a close to our article on "12" Vinyl Record Singles" It may be of interest to check out 'The Time' who released 3 LPs from 1981 to 1984, which is essentially Prince & Morris Day (Morris Eugene Day: 13 Dec 1957; MPLS) as well as 'The Family' that released 1 LP in 1985, again essentially Prince ,as well as the Jazz Band 'MadHouse' that released 2 LPs in 1987, also essentially Prince. There was a 3rd film with Prince & The Time "Graffiti Bridge" released in Nov 1990, but as Vinyl had been dead for well over a year the 12″ Single, had been renamed the "CD Maxi Single". The 1st time I was able to catch Prince was in Ames, Iowa on 7 Dec 1997 @ Hilton Coliseum, (a photo of from that concert hangs behind the cash register in our record shop) here is the setlist;
Jam Of The Year
Talkin' Loud and Sayin' Nothing
Let's Work
Delirious
Purple Rain
Little Red Corvette
I Would Die 4 U
Six
The Most Beautiful Girl in the World
Face Down
I Could Never Take the Place of Your Man
The Cross
Do Me, Baby
Adore
Insatiable
Scandalous
Sexy M.F.
If I Was Your Girlfriend
The Ballad of Dorothy Parker
Girls & Boys
Darling Nikki
Diamonds and Pearls
The Beautiful Ones
How Come U Don't Call Me Anymore
Take Me With U
Raspberry Beret
Kiss
Gett Off
When Doves Cry
(Eye Like) Funky Music
(The New Power Generation cover)
Baby I'm a Star
1999
Larry Graham's 'Graham Central Station' (with several members of 'Sly & The Family Stone') were the opener. It was great to finally see the "Purple One" in concert, however many of the songs were wrapped up in medleys; Prince did showcase himself, singing, dancing, & playing Guitar, Keyboards & Bass. Like I said truly one of the greats. In closing with Prince's 12" Single releases he gave us no less than 20 new Non-LP songs & at least 20 Remixes of the "Hits"
Until the next time … RLSchwinden: aka MrZer0
>Mr. Zero's: Since 2009< "Records, CDs, Cassettes, DVDs,VHS, Vintage Video Games, & Retro Toys" www.MrZeros.Com 1744 Lexington Ave. N. Roseville- St. Paul, MN. 55113 651. 489. 0207